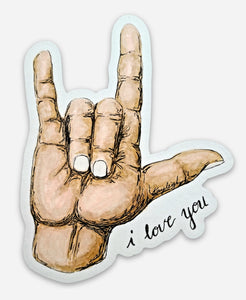 In honor of ASL, this I Love You drawing was created using Arteza Everblend Markers and printed as a vinyl die cut sticker.
Measurements are 2.39"x3"
Love Love Love
Truly enjoy and love art that speaks for you when you have no words or words aren't enough. The stickers I hope remind my family that I do truly love them no matter what is going on in my life. That I love them even when we might not see each other, talk often and/or I am a complete jerk and struggling. Love these stickers.