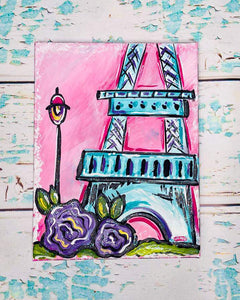 Go on a virtual adventure to Paris by painting the ever popular Eiffel Tower in a whimsical way! Contact me before purchase to discuss details. Kayleighskanvases@yahoo.com or 518-641-9751.
When: A time agreed upon(approximately 2 hours long)
Where: Private Facebook group. You will receive an email with a link to join this private group 1-3 days prior to the event. You will have access to this private page until the day after your virtual paint party. If you do not have a FB page, No Worries! You will receive an email with a link to join the morning of the Paint Party.
What(you will need):
Any size canvas(I will be using an 8"x10" canvas)
1" chip brush
1" flat brush
round brush
fine liner brush
Bubblegum pink paint
Dark pink paint
Teal paint
Purple paint
Dark green paint
Yellow-green paint
Black paint
White paint
Gold metallic paint(Optional)
Glitter paint(Optional)
These supplies can be found at most Craft Supply Stores(i.e.-Michael's, Hobby Lobby, JoAnn's, Walmart and more). Be sure to have all supplies set up and ready to go at least 30 minutes before the party.
How(to access our virtual party): I will post a link to our Virtual FB room in our private FB group. I will post it that morning, so you have time to find that post. I will also send you an email 1-3 days prior(depending on when you schedule) with a link to join the Paint Party.
GIVEAWAY: 1 or more lucky painters will be selected at random to receive a special giveaway! Don't miss out!
I'm so excited and I don't want you to miss out!
Post your finished painting on FB and tag @Kayleigh's Kanvases for an extra chance to win a special prize.